Site Work Construction
Whether a client is erecting a building, sports stadium, or waste water treatment facility, proper site work construction is important. And K&E is the right Oregon civil contractor for the job. We
specialize in heavy civil construction or the infrastructure work that ensures the success of any new construction. From developing building site plans to excavation, underground utilities, drain installation and paving—we meet customer goals for schedule, cost, quality and safety.
Excellent Workmanship and Service
Once project requirements are set, K&E's site work contractors will mobilize equipment and labor resources to break ground. We will smoothly manage all site work details and actively solve potential problems and delays. Our use of the latest
GPS technology
will verify and guide the excavation and grading process for greater efficiency. And our integrated workflow disciplines will minimize disruptions to the surrounding areas and to the public at large.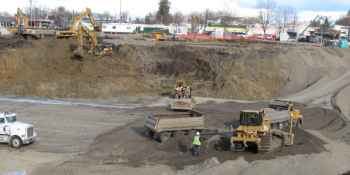 Because project quality and success begins with superior site work, it makes sense to use a proven, well-respected site work construction company like K&E. Hire us for:
New site development
Facility expansion
Site upgrades
Site repairs
Construction site work requiring fast-track scheduling